Repair – Revitalize – Renew
Solar repair & maintenance company
We are here to help you! At Renew we MAKE SOLAR STRONGER. We work hard to Repair and Maintain your solar system and ensure your investment is at its peak performance at all times. We only use the most innovative and efficient products to extend the longevity of your solar energy system. Our team is composed of the industry's very best solar technicians that are highly trained and licensed to provide you with superior service you won't find anywhere else.
Book A Solar Repair Technician Now
3 Steps to Renewing your solar today
What your on-site visit will include
Put your trust in Renew Solar Repair to make your solar strong again
When you work with the best solar repair company you get the best results. We have performed thousands of solar repairs nationally and would like to welcome you into the family of all our satisfied customers.

Solar Services
We Have You Covered


At Renew our technicians have seen every issue that can arise from a residential or commercial solar system. One thing that always stands out in every case is system downtime costs the customer money. That is why it is important for our solar service technician to quickly troubleshoot your system, diagnose the problem and resolve the issue, bringing your system back on line and generating the energy you rely on and the peace of mind you deserve.
RENEW Solar Repair Long Island
RENEW Solar Repair certified solar technician have repaired thousands of solar energy systems and have gotten home owners back to producing power! We have no fine print, if it is not working correctly we will fix it.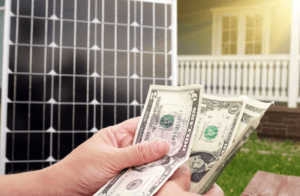 NEWS
The Solar industry is a rapidly evolving industry ever changing in its advancements in technology and the bettering of its materials, but what happens to
Read More »
NEWS
  Price of solar is becoming more affordable and the improved manufacturing process is being well-received amongst homeowners and businesses alike, so why are many
Read More »
NEWS
Have you heard of the ITC (Investment Tax Credit) that you can receive on your solar instillations? If you haven't, no worries! Check out how
Read More »
Jackie Gardiner
March 31, 2021.
Long Island Solar replaced my solar panels after some construction work on my house - when Ian discovered multiple rotted panels under my very old roof, he helped us to get them replaced and a new roof installed. He also took extreme care not to damage my flower beds when removing the old roof and installing the new roof. We had a minor issue about 8 months later and I emailed Ian to explain it to him- he was at my house within hours to address the issue. I highly recommend this company as they are trustworthy, reliable and do great work!
Rich Ramoska
March 24, 2021.
We had an amazing experience when choosing Renew USA. We suddenly realized our solar wasn't working & had no luck getting a response from the original company we purchased our system from so when we were referred to Renew USA, we didn't have the highest expectations. We were pleasantly surprised at the quick response from Ian & his eagerness to assist right away. He immediately called & began trying to troubleshoot the system right over the phone. That was definitely a temporary fix but when we noticed it was still an issue, he scheduled an appointment for us right away. Philip was a great Technician that took the time to speak with us & understand the trouble & quickly figured out the problem. We were able to contact PSE&G to correct the voltage issue & we've been back in service ever since! We'll definitely be recommending Renew USA to everyone!
Michael Prisciandaro
March 14, 2021.
Great company, couldn't be happier, job went smooth from beginning to end
Brooke Ryan
March 8, 2021.
Amazing company to work with! Thank you guys for ALL of your help!
maria mule
March 5, 2021.
Thanks so much for helping me out and answering the 1000 and 1 questions I had lol... I would definitely recommend this company they are hard working, honest, friendly and very professional!!!
James Feldmann
November 30, 2020.
I wanted to say thank you to RENEW USA for everything they have done for me from beginning to the end. They did everything on time and kept their words when they came to remove the panels and put them back on the roof after the roof was replaced. The customer service and rapport via email/phone was fantastic! Ian, owner of RENEW USA, communicated with me directly, and did everything what was expected from his company. He stayed on top of everything and the job was clean, efficient, pleasant, and also saved two baby birds that was in the nest under the panels which I brought it to birds Sanctuary. However, RENEW USA couldn't put the solar panels back on the roof because the manufacturer of my solar panels, TESLA, has not send the parts needed to put the solar panels back on the roof. It has been 10 weeks of HELL with trying to get parts from Tesla to no avail. RENEW USA bent backwards and stepped in and used the parts they have available in their stock to use it for my solar panels until I get the parts from TESLA to give back to RENEW USA if succeed. I can't think of any company big or small who would do something like this. RENEW USA have given me some hope that there are decent and caring company who cares about their customers unlike the big corporation like TESLA! If you are considering to get solar panels, be sure you find get it elsewhere other than TESLA. They don't care about their customers other than selling their products! Look for local, small companies like RENEW USA - stay away from greedy big corporations like TESLA! If it was not for RENEW USA, my solar panels would be still on the ground as I write this review for this great company. If you need service relate to solar panels or recommendation on where to get them - contact RENEW USA and you won't regret it. Since there is only 4 stars available to give RENEW USA, they deserve 1 thousand stars and THANK YOU VERY MUCH RENEW USA for everything you have done. I will never forget your genuine service with care and compassionate! Thank you IAN!
Head Quarters:
Renew Solar Repair 
Feel Free to get in touch